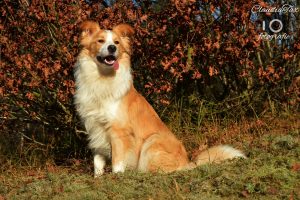 Figo is our EE-Red male from full show line, a beautiful dog to see
with a gentle nature.
He has been with the sheep a number of times and he really likes that.
Together we followed the Fun class at peace4dogs, we were able to try different sports together, and he liked hopers the most.
Figo is social to people and dogs and also likes young children.
Sometimes he can still be rude for joy, he is so cheerful in life.
Figo lives in a host family, where he gets all the attention he deserves.
We are very grateful to Marielle and Henny that they want to be a host family for Figo.
Figo is fully tested, approved and available as a stud dog.