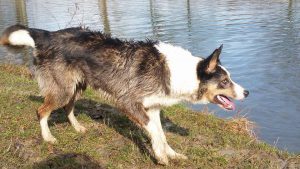 Day of Birth: 24-March-2016
ISDS : 343391
NHSB : 3076039
DNA CEA : Free
DNA TNS : Free
DNA MDR1 : Free
DNA NCL : Free
DNA IGS: Free
HD : A
Rug : 100% normal
Eyes: Free
Glaucoom : Free
Father: Fban Du Val Du Vent Doré
Mother: Work on Top Kate
Color: Maltese Merle Tan ( maltese )
Sports: herding
Ganti, our young male, cheerful softy but clearly in his own will. Ganti develops as a super social dog for humans and animals and especially other dogs that he loves. He loves learning a lot and together we are busy with sheep driving.
Floating her sheep is his passion and his life, balls and Frisbee's, he doesn't want to know anything about it, but as soon as he sees sheep his work button goes around and he is only too happy to take action.
. Ganti is a beautiful dog to see, he is maltese merle, actually blue merle but a gene hides the merle pattern.
Ganti is available as a stud for approved bitches, please contact us.