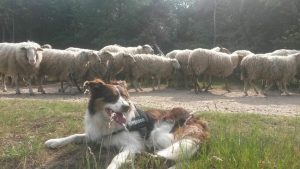 Father: Rooten Brook Moss ( isds 333406 )
Mother: Bryn Pica Jody ( isds 327075 )
Day of Birht: 14-02-2016
Color: Brown tricolor
Sport : Dogfrisbee & Herding
Pete, our youngest acquisition. Pete comes from pure sheep drives with a few champions in his line. He is also family of our Glenn (Nick).
Pete came with us in the pack at 7 months, he was imported from the UK.
Pete is a relaxed dog that likes to be among people.
He loves to lie with you and cuddle, he has a nice on \ off switch button ?
Pete shows no unpleasant behavior, and is social with other dogs, children and strangers. He wants to learn and is therefore kept busy. Pete is the peace and quiet and has a very open and friendly character.
Pete really likes Dogfrisbee, and we are working together on developing a nice routine, this needs time and training.
When he is ready, he will be released at competitions.
Driving sheep is really in his blood, he can work with both a small couple and a large herd.
Pete is suitable for suitable bitches, who have a pedigree, and who have had the health tests.