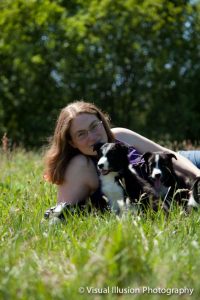 Mine name is Thamara and i'm the proud owner of Border Collie Kennel : " We Are One".

Our passion for dogs and especially the Border Collie breed originated early.
We have a nice pack together and are active daily with our dogs in the forest.
Our dogs are trained in sheep herding, dogfrisbee and agility.
When they are ready, they are released at competitions.
Because we enjoy our dogs so much, we like to breed puppies with hobby.
Our first litter was born in 2009, we have learned more and more over the years and we do our utmost to raise a litter of puppies with care.
We hope that this will give other people just as much pleasure, perhaps even more pleasure, with the breed, the Border Collie.
When selecting a good parent combination, we look at health, character and sports ability.
In addition to the mandatory health tests from the Border Collie Club Netherlands, we also have extra DNA tests carried out on our dogs to find out more about the parents.
This allows us to determine with certainty that the puppies are already free of certain hereditary diseases due to DNA inheritance.
The puppies grow up in our house, are socialized as extensively as possible, both indoors and outdoors.
All puppies receive a pedigree from the Raad van Beheer Nederland, and some litters with ISDS papers.
Furthermore, the puppies are sold with a purchase contract, which is signed when you reserve a pup with us, when you sign the purchase contract you also pay a deposit of € 500, – euros.
When you pick up your puppy, you will receive a folder with all the official health results of the parents, and an extensive puppy package.
Our puppies are weaned with fresh meat from Orange4pets.
They are offered chunks in the nest to get used to this, if the owners prefer to give chunks.
Not all dogs that are mentioned on this website live in our house, a number of dogs live in a host family, which the dog receives from me free of charge.
In this way, all dogs to which they are entitled receive attention, care and training.
We are regularly looking for people who want to be a host family, sometimes also for adult dogs that are not fully shown in the pack.
If you are interested in this, you can contact us by e-mail or by telephone.

You can always contact us for questions, advice or assistance with the purchase of a puppy